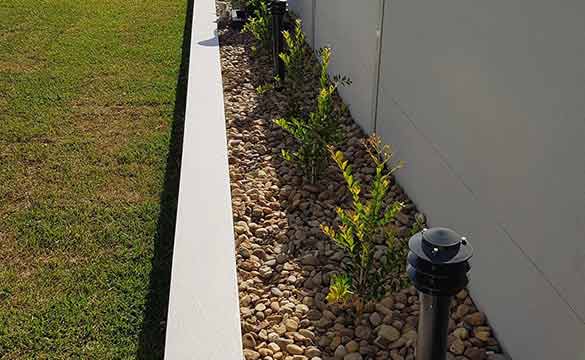 Garden Maintenance
Along with landscape design and construction, Intreeg Landscapes also offers a range of garden maintenance services to people living in and around Sydney, NSW.
It doesn't matter what sort of help you need – we have the skills and experience to get the job done.
On top of everything else, we pride ourselves on our customer service and commitment to excellence. We believe that our gardening services are among the best in the region, and we have the reputation to prove it.
We Offer Regular Garden Maintenance
At Intreeg Landscapes, one of our most popular services is regular garden maintenance. If you don't have time to look after your outdoor spaces, we can help. After an initial inspection, we can arrange to attend your property at regular intervals to tidy and look after your gardens.
Some of our regular gardening services in Sydney include:
Lawn mowing and edging.
Weeding gardens, paths, and lawns.
General garden tidying and pruning.
Green waste removal, including leaves and dead branches.
Ultimately, we will work alongside you to develop ongoing garden maintenance solutions that fit both your budget and ongoing requirements. On top of this, you can expect the highest level of professional service when you work with the Intreeg team.
We Also Offer One-Time Garden Tidying Services
Alongside our regular garden maintenance services, we also offer one-off garden tidying. If you've let your garden and outdoor spaces get a little run down, we can help you restore them to their former glory so that they're more manageable and easier to look after.
Similarly, we also offer rental vacation gardening services. We can work alongside you and your real estate agent to make sure that your gardens pass inspection, regardless of their initial condition.
Some of our most popular one-time garden maintenance services in Sydney include:
Paving and concreting.
Tree lopping and stump removal.
Turf laying.
Irrigation design and installation.
This is by no means a complete list of the services that we offer – if you need something done to your garden, we can do it!
Why Should You Use Intreeg Landscapes?
At Intreeg Landscapes we are continually striving to improve our services and become the best gardening service provider in the greater Sydney area. There are a number of things that we believe set us apart from most of our competitors, including:
Our customer-centric attitude – We always put you first, and strive to do everything in our power to make sure that you're happy with our work.
Our experienced team – We only employ the best gardeners and garden maintenance experts in NSW, and every one of our team members if highly skilled and experienced.
Our commitment to excellence – We never leave a job half finished or poorly done. Our team understands how important it is to finish every job with a high degree of professionalism, and we believe that you will always be happy with our work.
But, don't take our word for it – do your own research and look up reviews from our past clients. In the end, our great reputation speaks for itself, and we're proud of it.
We're Always Happy To Help
There is no gardening or garden maintenance too big or too small for our team at Intreeg Landscapes. We offer extremely competitive prices and some of the best gardening services in NSW.
If you're interested in finding out more about how we can help you transform your garden or develop ongoing maintenance solutions, feel free to speak with our customer service team today.
You can get in touch with us via our website and we will reply ASAP. Alternatively, give us a call now!